Описание
True in the history of Italian violin making and to its own innovative spirit, Sonus faber pays homage to the great Antonio Stradivari. As the Stradivari's instrument, even Il Cremonese is the result of scientific researches and deep passion.
Антонио Страдивари и  Sonus Faber Il Cremonese
New element of the iconic Homage Collection, Il Cremonese derives from Lilium.
Thru to the highest brand's tradition and to the history of Italian violin making, with this project Sonus faber pays a tribute to the great master Antonio Stradivari a luthier and artist who revolutionized traditional violin craftsmanship, and continued the work of Andrea Amati to create new concepts of form and finishing that are still appreciated and cherished today the world over.
This project is a tribute not only to the great violin maker, but also to one of Stradivari's most famous violins, Il Cremonese, celebrating its 300th anniversary in 2015.
THE STRADIVARI'S VIOLIN
Inspired by the shape of Lilium, Il Cremonese is a tribute to the most famous creation of Antonio Stradivari. Its five non-parallel walls structure and the sides applied on the enclosure, requires a careful processing techniques, as for a musical instrument: from the wood bending and shaping, to the treatments of the precious Avional surfaces.
THE ORETICAL PERFECTION
This is what we have in mind in designing the «acoustic environment» of each single transducer. Each volume is insulated with different materials from open cell thermoplastic foam to fibrous materials, similar to the felt used in pianos. The most appropriate material or materials are selected for each specific application.
FEATURES
This atypical Sonus faber form represents an evolution towards technological and visual innovation, simultaneously maintaining the historic milestones that marked the history of violin making, as well as the history of the Sonus faber brand itself.
RHOMBOIDAL DIAMOND DESIGN
Il Cremonese innovative 5 sides cabinet "Rhomboidal diamond design" which optimizes the structural solidity of the wooden cabinets with a unique diamond shape that is immediately recognizable thanks to clean lines and an elegant, minimal, and sharp design.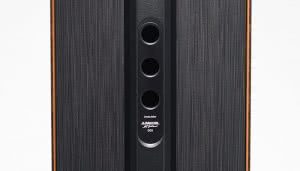 STEALTH REFLEX™
The patented "para-aperiodic" interpretation of the tuned load. Besides allowing for a reduction in the dimensions of the cabinet size, it provides greater extension of the low frequency response and a dramatic containment of every form of distortion; also eliminating spurious 'port' noises, typical of traditional reflex systems. Thus, also, substantially contributing to the correct sound reproduction.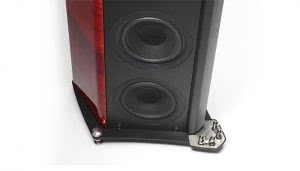 INFRAWOOFERS
SW 22 XT-08, a powerful 220 mm infra-woofer. To obtain maximum rigidity, the structure of the cone is made of a lightweight "sandwich" cone structure of syntactic foam and cellulose pulp. This is also implemented in an independent tuned enclosure, acoustically 'amorphous Stealth Reflex™ chamber.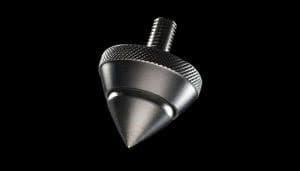 SILENT SPIKES™
Il Cremonese is mechanically decoupled from the floor through a new and innovative version of the patented system Zero Vibration Transmission™. The new implementation presents coaxial spikes metal / elastomer / metal that, compared to the previous version implemented on alternate surfaces, guarantees a further simplification in the construction and aesthetic lightness.